Hi all – today I want to share my new Quince robe, aka my accidental lab coat. My goal was to make a light and easy-to-pair layering piece (meaning: in my palette!) that I could throw over my shoulders in the warm summer months. However, what I ended up with vacillates somewhere between bath robe, Jedi outfit, and lab coat (depending on how I've styled my hair and what I'm wearing with it).
While I originally planned to make this robe in a viscose voile from Minvera, the shade of that particular fabric wasn't quite right, and I had to go back to ye olde stash to see if I didn't have something better. Miraculously, I realized that I had 2.5 yards of this raw silk that was given to me by my grandma a few months ago. It was the right shade (or so I thought), and I love Sarai's Quince, also sewn up in a raw silk.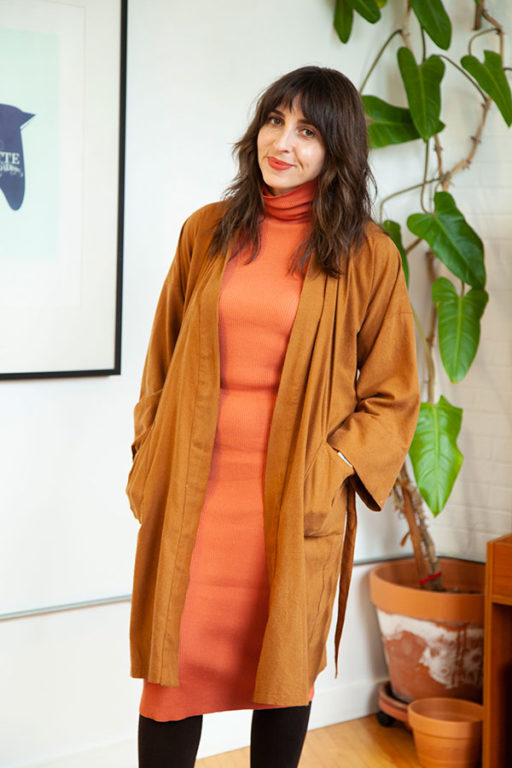 Now that the garment is completed, I'm less convinced it was the right shade, afterall. I had the hardest time styling these photos without feeling like I was in either a bath robe or a costume. Of course, this problem seems like it should have been obvious in hindsight. But I guess you have to actually make a lab coat before you learn that lesson..
My plan is to give this a few wears before making any final decisions – but there is at least a 50% chance that I either 1.) tea dye it to get it a darker shade of white, or 2.) do that whatever it is people do with avocado skins for a nice pink stain.
Despite my indecision about the color, it was a quick and easy project that came together in just a few days. This pattern was a perfect palette cleanser post-quilt, because the design is simple and straighforward and there are literally no curved seams.
Since fit is so much easier with robes, I skipped a muslin and made a straight size 0. This is not my typical size in a Seamwork pattern (a size zero armscye would normally strangle my poor pits), but because of the generous ease and extra armhole length I decided I could get away with it. I wanted this robe to be a cute outer piece and not too oversized for me.
I'm not sure I pulled that off, but oh well. Creative liberty!
I want to brag briefly about cutting everything on a single layer and getting away with being short almost a yard of fabric. If you've been reading my blog for any length of time, you will know by now that I love the thrill and mild stress of cheating a pattern out of yardage! It is especially nice when you are working with a premium fabric because it translates to literal dollars and cents you are saving. I am nothing if not cheap!
The experience was made all the more pleasurable by my ~fancy new tracing paper~. I recently ran out of my trusty medical exam paper, which had lasted me over three and a half years. Although I have no idea if exam paper is actually in short supply right now – I felt suspicious enough to not buy any just in case.
So what did I do instead? Buy a ridiculous, and I mean ridiculous, amount of drafting paper from Wawak. This is the same paper we used in my drafting class at the local community college, so I already knew I liked it. I also did the math, and it turns out this paper is cheaper than medical exam paper if you go by the square foot (inch?). You just have to be okay with purchasing a literal decade's worth. Which, in this instance, I was (this is the land of Costco, after all)!
And lol! It's huuuuuuge. So big that it inspired a major tidy session in my sewing room while I tried to find a permanent home for it. It's also quite heavy, so you will definitely want free shipping if you you decide to spring for it yourself. At one point I accidentally knocked it over (while doing aforementioned tidying), and the crash was so loud that my husband came running from across the house because it thought it was my body hitting the ground. Oops.
Anywho! It's great, no regrets. I like that it has a grid, the extra width makes it easier to trace large pattern pieces, and the paper itself is much sturdier than what I was using before, so it feels good to work with.
Anywho, back to my Quince – this was my first time sewing with raw silk, and I really enjoyed it. It's easy to work with like a cotton (actually, even grippier than cotton), and presses beautifully (light heat! pressing cloth!). It even smelled like my Grandma, which made me happy the entire time I worked on it, since I can't go visit her right now.
I am uncertain whether raw silk is going to help keep me cool in the summer, or if I'm going to bake in this thing. It may become a transitional outerwear piece, depending. Or an innerwear piece! Since it's basically a bath robe already.
I can't say I'm crazy about it now that it's done – but sometimes new pieces take a while to grow on me. Me Made May started yesterday and this is the first year I feel like I have enough me-mades in my wardrobe to really participate. 50+ days into self-quarantine, and I'm trying to make an effort to get dressed everyday. I'm hoping that this year's challenge will help motivate me to do that, and help me identify if there's any changes I can make to pieces that I don't wear much.
That's all to say, stay tuned to see what becomes of this particular piece, because I'm not convinced it's "done." Maybe it will get a tea dye? Maybe some embroidery? Either way, I suspect a Part 2 may be in the works.
The Details:
Fabric: Light raw silk, gifted (2.5 yards, 44″)
Pattern: Quince Robe by Seamwork
Size: 0, View 1
No Adjustments
Total Cost: $4.50

$0 for the fabric (thanks Grandma!)

$4.50 for the pattern (1/2 Seamwork monthly subscription)